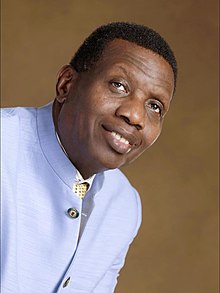 HIS DETAILS:
Here is all you need to know about Pastor Enoch A. Adeboye's humble beginnings and legacy.
Before the 78-year-old became the General Overseer worldwide of the Redeemed Christian Church of God (RCCG),he was a young boy born in Ifewara village,Osun State.
Poor background
A farmer named Moses Adeboye and locust bean trader, Esther Adeboye welcomed him into their Anglican family in 1942. Due to his poor background, his parents were unable to send him to school to get a formal education.
Things changed after Adeboye was able to change his parents' mind by going on a hunger strike. This strike compelled his father to sell his goat in order to send his son to the only missionary school in their village — St. Stephen's Anglican Primary School in Ifewara, Osun State.
"I was born handicapped, financially and socially. I was born into probably the poorest family in the whole world. Among poor people, my father was considered poor. For the first time in 18 years of my life, I never wore a pair of shoes," Pastor Adeboye told Vanguard.
Education
Attending St. Stephen's Anglican Primary School turned out to be a great thing since this was where he discovered his love for books, science, and Mathematics in particular.
This passion for education helped him overcome his financial challenges through secondary school and University.
In order to get by, he had to work as a photographer and do other extracurricular activities. It all paid off when he got a Bachelors (BSc.) degree in Mathematics from the University of Nigeria, Nnsukka, Nigeria in 1967, a Masters (MSc.) Degree in Hydrodynamics and a Doctorate Degree (Ph.D.) in Applied Mathematics, both from the University of Lagos,  Nigeria, in 1969 and 1975 respectively.
From Maths to God
Adeboye was a Maths lecturer at Unilag when he crossed parts with Pa Josiah Akindayomi (1909–1980), who founded RCCG in 1952.
Prior to becoming the current G.O, he first attended the church after he was invited by his uncle, Rev. Chris Fajemirokun. His personal walk with God started on July 19, 1973, when he answered an altar call, along with his wife,Folu Adeboye.
Describing the salvation experience, he said, "something overwhelmed me that day — that I was close to hell and I didn't know it. I suddenly realized that it is possible to have all the Ph.D.'s in the world and still be on the losing side. I know all the formula but I did not know the one eternal life".
His journey to becoming the G.O began soon after as he began to act as the interpreter who translated Akindayomi's sermons from Yoruba into English. This was followed by him organizing Bible Study meetings, Crusades, Revivals, Outreaches, and the evangelistic meetings.
Reportedly, he knew he was going to become the G.O about five years before it actually happened. According to several sources, Adeboye got two divine revelations, five years and one year before the appointment.
Unknown to Adeboye, Pa  Akindayomi had already known that he was going to be his successor before he even became an RCCG member. Reportedly, the G.O at the time had received a divine revelation in the early 70s that his successor would be "a young educated man".
It came to pass after the RCCG founder's death November 2, 1980. Pastor Adeboye succeeded on January 21, 1981. He was only 38 years at the time of the appointment.
Since he became the RCCG G.O, Pastor Adeboye has managed to turn the church into one of the most popular churches not only in Nigeria but in other parts of the world.
Under his leadership, the church has attracted thousands, even millions of people who continuously flock to RCCG for weekly programmes and special ones like the Holy Ghost service.
Apart from being the G.O, he is well known as a mentor to other popular Men of God like Bishop David Oyedepo of the Living Faith church.
Pastor Adeboye is an author, publisher of a daily devotional called Open Heavens, recipient of many National and International awards.
He has also managed to reach the education sector by establishing the Redeemer's High School in Redemption Camp, Km 46, Lagos –Ibadan Expressway, Ogun State and the Redeemer's University of Nigeria in Osun state.
Controversy
Pastor Adeboye and his church have been caught in a few controversies. The latest being his recent comment on tithing. He was severely criticised for implying that tithing is the key to entering heaven.
On the home front, he is married to Pastor Mrs. Adeboye, whom he exchange marital vows with in a court wedding on September 8, 1967. They had a church wedding two years later. They just celebrated their 50th wedding anniversary on with a special service at the RCCG National headquarters.
During the service, Pastor Adeboye took some time to appreciate and honor his wife. In his words, "Marry for love. It'll endure. I've been married for 50 years and still on honeymoon. I was the poorest among those lurking around the girl I married. One was a lawyer who had a car; I had nothing. But I told the girl that if you marry me, whatever I am, wherever I ever become will be yours."
Their union has been blessed with three sons, a daughter, and grandchildren.
Pastor Adeboye has clearly come a long way from his humble beginnings in a village in Osun State.